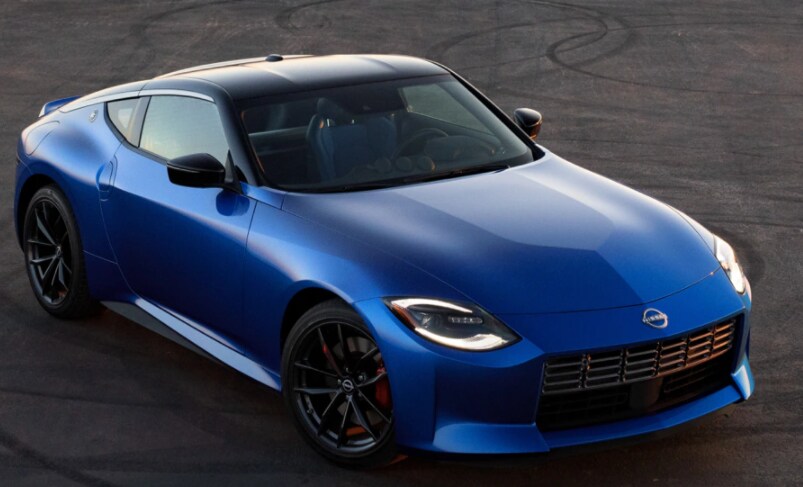 Past meets future Witness the rebirth of the iconic sports car that has defined generations and defied expectations. The all-new Nissan Z will soon make its way to our Springfield dealership. Learn more from Youngblood Nissan!
All-New Nissan Z Coming Soon To Springfield
The all-new 2023 Z stays true to its performance roots, with a powerful 6-cylinder under the hood; a Front Midship, rear-wheel-drive design that places the engine farther back in the chassis for enhanced balance; and a suspension that makes you feel hard-wired to the road. It's an authentic sports car in the purest sense of the word. 
At the heart of the Z is a 3.0-liter V6 twin-turbocharged 24-valve engine. An aluminum-alloy block and heads keep things light, while a water-cooled intercooler helps keep things cool. An optical speed sensor brings power with turbine speeds up to a dizzying 220,000 rpm.
A new available mechanical limited-slip differential helps distribute power to the driven wheel with the best grip, helping you power out of corners.
The first on any Z - available launch control helps eliminate wheel spin and hop, by holding the engine at a pre-set rpm and modulates power as you pull away to give you the fastest, most consistent acceleration every time.
In the 2023 Z, new first- and second-gear synchros are designed to help handle the powerful twin-turbo engine. Enhancing the connection, the shift mechanism has been redesigned to give a more direct, positive feeling.
The one transmission that can tempt manual drivers. The Z features a new 9-speed automatic with shift-by-wire technology activated by a unique palm-shaped controller. For added thrills, you can employ the available steering wheel paddle shifters borrowed from the Nissan GT-R.

For more information about the 2022 Nissan Z and all of its excellence, contact us at Youngblood Nissan in Springfield to schedule a test drive.